Alison Dickens of Granta Heritage is available for talks and lectures for community, archaeology and local history groups. Alison is an experienced speaker and is able to give a variety of talks or lectures.
Lectures can be adapted to on-line presentation.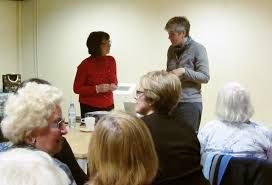 Available talks include:
Beneath the Choir Stalls of Kings College, Cambridge. Surprising revelations from under these famous choir stalls.
All That Glisters: Anglo-Saxons, Beds and Gold. Looking at the phenomenon of bed burials in early Saxon England focussing on the recent discovery at Trumpington Meadows in Cambridgeshire.
The Story of Cambridge in One Hole. Excavation in a sewer shaft in central Cambridge revealed evidence from almost the entirety of Cambridge history - and not a few surprises along the way!
The Extraordinary Ordinary: Excavations at the David Parr House, Cambridge. Community test pitting in the garden of the David Parr House revealed intimate insights into the story of this amazing house and the people who lived there.
Robert Sayle - Buildings and People. Before the archaeological excavations for Grand Arcade Cambridge could begin, a detailed record was made of the more than 12o structures standing on the site including the Cambridge institution of the Robert Sayle Department store.
Dear Mother and All: The WW1 Letters of Stanley Parker. Reflecting on the wartime correspondance of a young Cambridgeshire soldier
The Rampton Roll of Honour. The first world war sacrifice of a tiny Cambridgeshire village.
Rampton Church and its Antiquarians. The tiny thatched church of Rampton saw visits from local and national Antiquarians going back to the 18th century - how has their work helped understanding of this important building.
Current bookings can be found on the Events page
Contact Alison to make bookings or to discuss your requirements
Granta Heritage are able to supply laptop, projector, and screen if required.